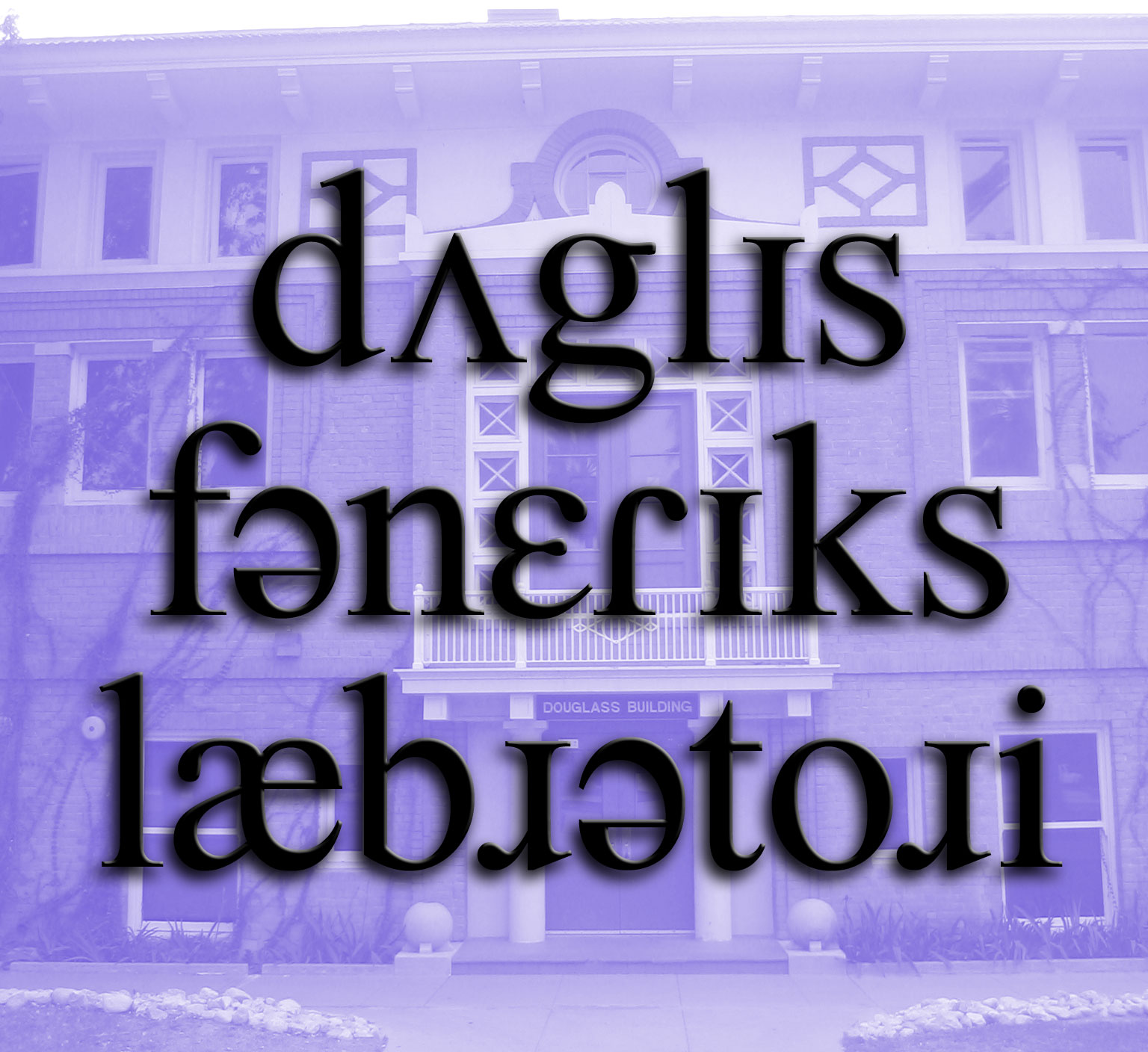 Douglass Phonetics Laboratory
The phonetics lab in the Douglass Building is outfitted for research and teaching in articulatory phonetics, acoustic phonetics, speech perception, psycholinguistics, and speech technology. The lab is located in rooms 316, 318A, B, C, and D of the Douglass Building (South half of the third floor), and also shares some space (314 Douglass) with the SPAM Lab. The lab is used by Natasha Warner's classes, and also by students and faculty of the Linguistics Department and related areas. If you would like to use the lab, or have questions about it, please contact Natasha Warner at nwarner@u.arizona.edu.
Current

Dan Brenner
Ana Gonzalez
Maureen Hoffman
Priscilla Liu
Denise Osborne
Jae-Hyun Sung

Yan Chen
Sam Johnston
Natasha Warner

Alumni

Karen Barto-Sisamout
Viktor Kharlamov (FL Atlantic U.)

Hiromi Onishi (Grinell Coll.)
Jessamyn Schertz (U. of Toronto)

Darin Arrick (U. Kentucky)

Jeff Berry (Italian Institute of Technology)

Sonya Bird (U. Victoria)

Lynnika Butler (Wiyot Tribe)

Maggie Camp (EAS, U. Arizona)

Miriam Diaz (Concordia U., Montreal)

Erin Good-Ament (Coll. William & Mary)

Rachel Hayes-Harb (U. Utah)

Cathy Hicks (Central Michigan U.)
Liberty Huskey

Keith Johnson (CSU Fresno)

Amy LaCross (U. Arizona)

Kyoko Masuda (Georgia Tech U.)

Yuka Matsugu
Naomi Ogasawara (Nat'l Taiwan Normal U.)

Atsuko Oyama
Natalya Samokhina (UC Santa Cruz)
Benjamin V. Tucker (U. Alberta, Edmonton)

Heather Van Volkinburg (Columbia U.)
Anna Woods


Current and recent research projects

Reduced, conversational speech (production and perception)
Cross-linguistic and cross-dialectal use of reduced speech

Mutsun language revitalization project
Scots Gaelic (collaboration with The Arizona Scottish Gaelic Syntax Project): perception of segmental distinctions, spoken word recognition, aerodynamics of nasal fricatives

Reduction of Mandarin tones (Berry)

L2 vs. L3 acquisition of Portuguese vowels (Diaz)

Learning of semi-regular vowel harmony (LaCross)

Phonological processing of vowel harmony (Mongolian) (LaCross)

L1-L2 intonation (Barto-Sisamout)

Acquisition of tone (Ji)

Perception of Mandarin affricates in spontaneous speech (Wood)

Palatalization in Chilean Spanish (Huskey)

Phonetics of sexual orientation in Japanese speech (Camp)

Perception of intonation (Good-Ament)
Processing of Japanese devoiced vowels (Ogasawara)

Russian voicing assimilation (Samokhina)

L2 acquisition of Spanish trill, aerodynamics of trilling (Johnson)

Relationship between intonation and speech segmentation

Perception/psycholinguistic experiment facilities
Speech analysis software
Recording equipment
Air flow and pressure measurement
Palatography
EGG
Speech synthesis and recognition





Events: The lab holds weekly lab meetings, and organizes a picnic approximately one time per semester.
If you would like to see the booth schedule please click here.
Home | People | Links | Wiki
University of Arizona | Department of Linguistics